In 1972, AIP offered the film-going public a gem of a film to both shock and terrify, this film was, Frogs! In the best of the classic horror traditions, the story tells of nature's revenge against man...the dominant species on Earth....or is he?

Jason Crockett is a patriarch who each Fourth of July, gathers his family to celebrate the holiday and his birthday, but this year, several uninvited guests crash the party. Crockett decides to wage battle against an array of Nature's creepy crawlers, he sets both workers and family members off to destroy, frogs, snakes, lizards, tarantulas, scorpions, alligators, salamanders, toads, leeches and an alligator turtle. See just who gets the upper hand in this film guaranteed to send chills down your spine.

The cast is wonderful, Ray Milland, Sam Elliott, Joan Van Ark and Adam Roarke wage battle against each other as well as the beasts that come calling.

MGM has recently released this classic to DVD and the transfer is fantastic. I have a prerecord from Warner Home Video and the differences are striking. While short on extras, the disc can only boast of the original theatrical trailer, it is presented in both pan and scan as well as 16x9 enhanced widescreen.

If a day of classic *B* films is to your liking, then by all means, check this offering out from AIP!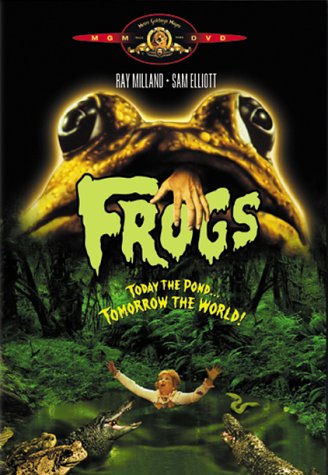 Film Information:

Frogs

Released: 1972

Director: George McCowan

Cast:
Ray Milland, Sam Elliott, Joan Van Ark and Adam Roarke

Run Time: 90 Minutes

Color

Status: In Print-Video and DVD